Samurai pants, lounging pants, priest pants, cool pants. What more is there to life? First off, the pattern. Cut two Gussets, two Braces, and four Pants, two on each side.
Please take note of the colored lines, as these are showing you how to pleat. The easiest way SHE pleats is to actually mark these lines. But we'll get there later.
01 - Fold over A, then fold over B and sew shut. This is the outter thigh of the pants, and this makes a nice hem.
02 - Sew the Crotch Gusset to the Pants Body.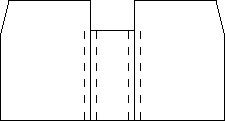 03 - Hem the bottom.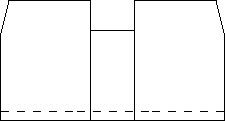 04 - Pleat the pants. Match RED lines to BLACK lines. GREY lines are the inside fold. This makes FOUR pelats. Sew along the pleats to keep them sharp, and sew along the top to keep them in place. (GREY lines pictured as PINK to help visualize diagram.)
05 - Place the pieces Right Side Together, and sew the Crotch Gussets together. They should make a U shape, and you'll be sewing them together inside the U.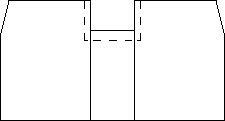 06 - Sew the outside of the legs together, stopping at the hem you created in Step 01.
07 - Create your straps. You may use narrow bias tape, craft your own, or even braided ribbon. The back needs to reach around the waist once, the front needs to reach around twice.
08 - For the front, sew strap to the top through all layers of thickness. Fold the back down and the front up and stitch along the bottom to hold everything in place.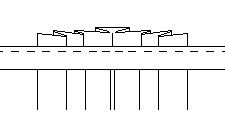 09 - Sew the Brace together, leaving the bottom open. Clip and turn. Sew the ribbon to the brace, and sew the brace to the Center Back. Turn up, iron, and hem down. Honestly, I don't know QUITE what this peice is, but I've seen it before and copied it.